R-Go Split Break
Reference number:
GTIN:
Order through your own dealer?
With integrated break indicator
Helps you remember to take breaks
Inside the R-Go Split Break keyboard is an LED light controlled by the R-Go Break Software. This light changes colour, like a traffic light. When the light turns green, it means you are working healthily. Orange indicates it is time for a short break and red indicates you have missed a break. This gives you positive feedback on your break behaviour.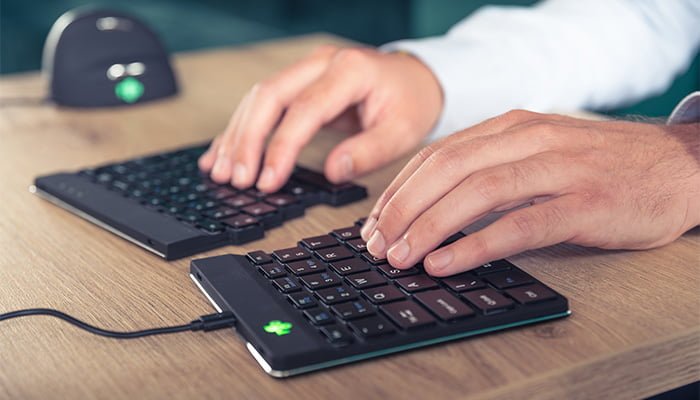 Benefits
R-Go Split Break Keyboard
2 parts for maximum freedom
With break indicator
Ultra thin for better blood circulation
Light keystroke for minimal muscle tension
Easy to carry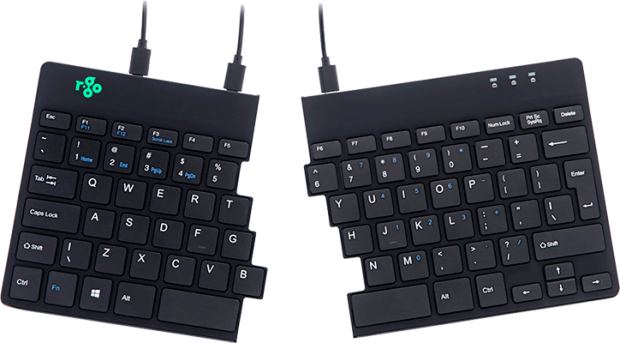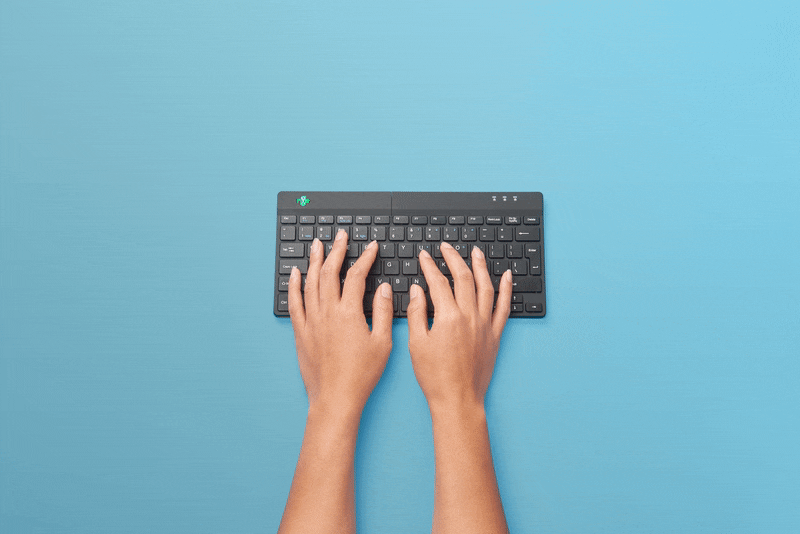 2 parts for maximum freedom
Ergonomic split typing
The R-Go Split keyboard consists of 2 separate parts that you can use in any desired position. So you can always type with straight wrists and prevent oppressing tendons and blood vessels. This ergonomic split keyboard can be turned into a compact keyboard with 1 move using the built-in magnet.
Ultra-thin design
Thin keyboard with light keystroke
The Split keyboard is ultra-thin, so you don't strain and oppress the blood vessels and tendons in your wrists while typing. The special scissor mechanism in the keys ensures a light keystroke, so less strenght is needed to press the keys. As a result, the fingers are more relaxed while typing.

All you need to know
Description
The R-Go Split Break keyboard is an ergonomic split keyboard with integrated break software. This keyboard stimulates you to take regular breaks. This keeps your body's blood flowing, prevents strain and keeps you fit during your working day.
The keyboard consists of two separate parts, which you can place in any set-up you desire. This splitting prevents flexing of the wrists while typing. Typing with straight wrists reduces muscle tension and prevents oppressing of tendons and blood vessels. The built-in magnet allows you to turn the two separate parts of the keyboard into a compact keyboard with just one movement. The compact size ensures that the mouse is always within reach. The light keystroke means minimal muscle tension is present while typing. The keyboard is flat, keeping your hands and wrists flat and relaxed while typing.
LED colour signals in the keyboard indicate how healthy you are working and when it is time for a break. As you type, the light changes colour, like a traffic light. Green means that you are working healthily, orange means that it is time for a break, red that you have been working too long. Through these subtle colour signals, you receive feedback on your break behaviour in a simple and positive way.
This product works together with the R-Go Break Software that won the Benelux Office Product Award 2021. For more information, visit our R-Go Break page.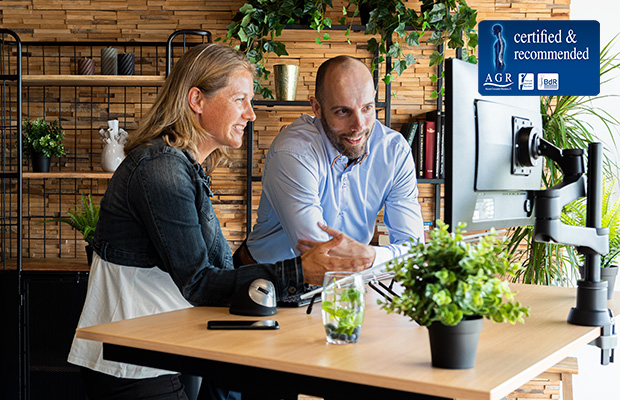 Certified
Tested and recommended
"Ergonomic and body-friendly mice, keyboards, monitor arms, document holders and laptop stands from R-Go provide assistance for natural and effortless computer work. They relieve the user rather than putting extra strain on them. It is especially important that the aids fit the user, as different people have different preferences. Congratulations on the AGR seal of approval and on products that make working life easier!"
Aktion Gesunder Rücken (AGR)
Details and
Specifications
Model and features
Keyboard layout
QWERTY, QWERTZ and AZERTY
General
Length in inch (mm)
11.3 inch (288 mm)
Width in inch (mm)
5.4 inch (137 mm)
Height in inch (mm)
0.4 inch (9 mm)
Weight in oz (g)
10.4 oz (296 gr)
Product material
Aluminium & Plastic
Warranty period (in years)
2
Connection (wired)
Cable lenght in inch (mm)
59.0 inch (1500 mm)
System Requirements
Compatibility
Windows, Linux
FAQ
Frequently asked questions
My keyboard types characters other than what is indicated on the keys. How do I solve this?
Check whether a different layout is selected in Windows than your keyboard layout. You can check this by doing the following:
Click the Windows button and click "Settings"
Click on "Time and language"
In the menu on the left, click on "Language"
Under "preferred languages" select the language that you use
Click "options"
Under "Keyboards" check if the layout matches the layout of your keyboard or add it if necessary.
What different types of keyboard layouts are available?
The keyboards are available in QWERTZ (DE), QWERTY (US), QWERTY (UK), QWERTY (Nordic), QWERTY (ES), AZERTY (FR) and AZERTY (BE).
Can I turn off the light on the keyboard?
The light helps you remember when it's time for a short break. If you already use a mouse with a break indicator and would prefer to turn off the LED light on the keyboard, you can do the following:
For all Qwerty layouts, use the key combination Fn+A.
For the other layouts you can use the key combination Fn+Q.
How to make the best use of the break indicator on the keyboard?
Help, I can't get my Split keyboard to work.
Check that your keyboard is connected correctly.
Left part:
Connector left is empty or hub for other device
Connection middle is for connection with PC
Connection right is for connection with right part
Right part:
Connection left is for connection with left part
Connection right is empty or hub for other device
My Caps Lock key only works for the left part and Shift does not work for both parts. Can I solve this?
Unfortunately, MacOS blocks the signal between the parts. This can be solved with an application. Follow these steps:
Download the Karabiner- Elements application from this link.
Install the application and open it.
Go to tab "Simple modifications" and click the "Add item" button.
Click on the selector under "From key" and select left_shift".
Then click the selector under "To key" and select "right_shift".
Click "Add item" again and select "right_shift" under "From key" and "left_shift" under "To key".
There is no dongle with my wireless keyboard. Is that correct?
Yes, that is correct. Our wireless products work via Bluetooth. You only need to pair your keyboard with your computer once.
How do I pair my wireless Bluetooth keyboard with my computer?
– From the Windows menu, go to 'Settings' and click on 'Devices'.
– Switch Bluetooth to 'on'.
– Ensure that your new device is sufficiently charged.
– Press and hold the sync button on the bottom of the device until the blue light blinks.
– Select the device from the displayed row on the computer screen to connect it to the computer.
Split keyboards
Healthy and flexible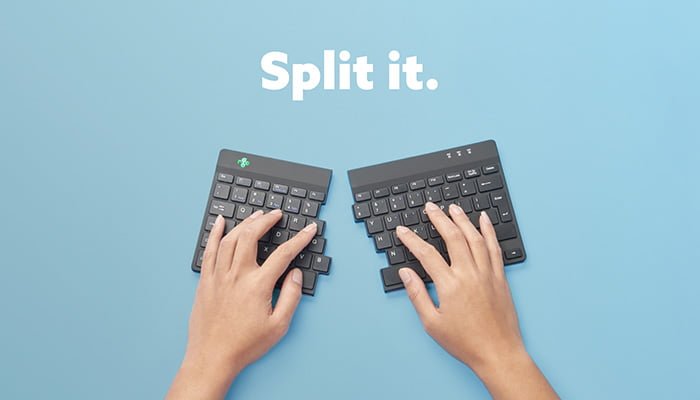 Chances are, as you read this, there is a standard keyboard in front of you on your desktop. Because although there are many different variants on the market, most people still use a standard model keyboard.
A keyboard based on an 1878 design by Christopher Latham Sholes! But those who think the split keyboard is a new hype are wrong.