Trial
Try our ergonomic laptop stand for free now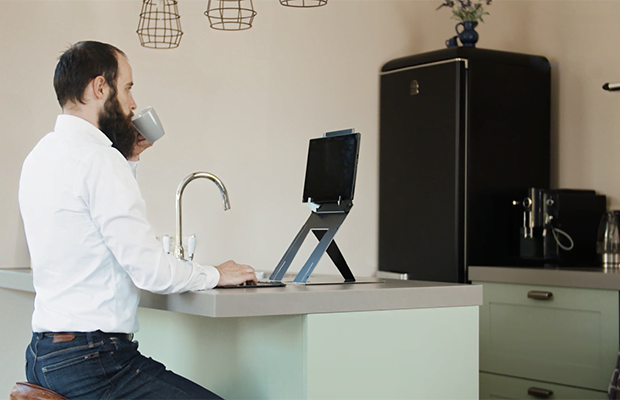 Watch this video!
Always an upright working position
Raises your laptop screen
Did you know that in a hunched posture, your neck muscles constantly have to lift your head? With chin on chest, the force on your neck is easily 59.5 lbs (27 kg)! And it is precisely this hunched posture that is common with laptop and tablet usage.
Do you want to work healthily with your laptop or tablet? Then raise the screen to eye level and use a separate keyboard and mouse. With the Riser laptop and tablet stands, you can create a healthy workplace in no time. They are adjustable to various heights and can easily be set at eye level.
Benefits
Ergonomic laptop stand
Lightweight ultra-thin aluminum
Easily adjustable in height
R-Go Riser Duo: for laptop and tablet
Stimulates an upright working posture
Easy to carry
Made in the Netherlands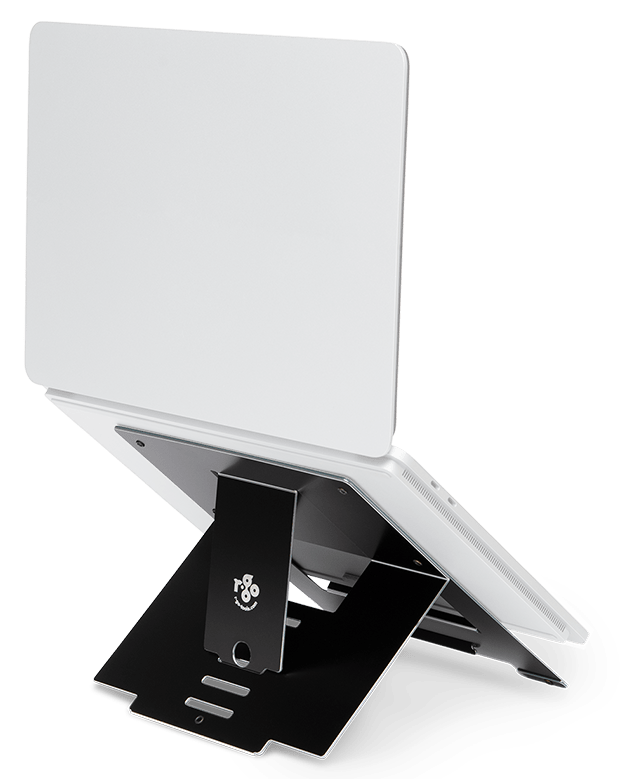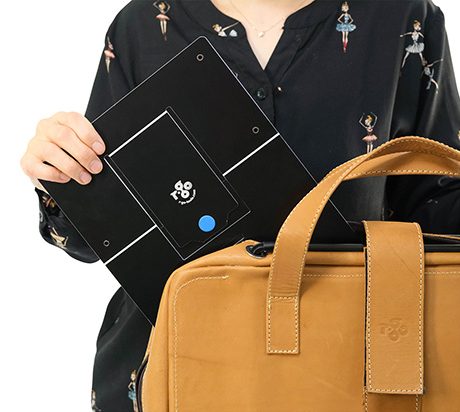 Ultra-thin and lightweight
Easy to carry
The Riser laptop stands are made of Hylite®: the thinnest aluminum composite in the world. This makes the stand very light and easy to carry. 
Our thinnest Riser is only 1 mm and weighs 3.5 oz (110 grams). Because the material is very strong, the Risers can support up to 11.0 lbs (5 kg) of weight!  
Different variants possible
Discover the Riser Duo 2 in 1 stand
The R-Go Riser Duo is a 2-in-1 solution. You can convert this laptop stand into a tablet riser in no time. The Duo is easily adjustable in 4 positions, so you can always work at eye level. This brings your head into a natural position and reduces tension in your neck and shoulder muscles.
It also features an integrated document holder to raise your documents to make them easier to read. The Riser Duo is ultra-thin and lightweight: ideal for carrying in your bag!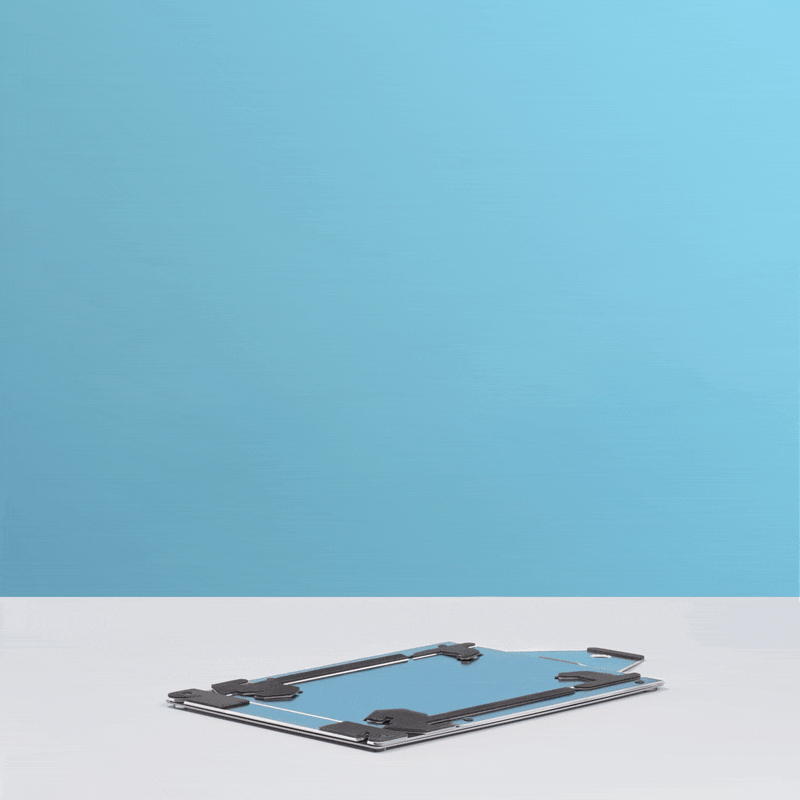 The Riser is available in different variants. For example, the Riser Flexible is a stand-alone healthy solution for any workstation. Our Riser Attachable is easy to attach to your laptop with Velcro.
Do you work a lot with documents? Then choose the Riser Document with integrated document holder.
Customer experiences
Reviews
"Delivered well packaged, clear instructions included on how to set it up, very thin but still sturdy. Does not slide away during usage with my laptop on it. Fits well in my laptop bag and so easy to take with me, especially as it is so thin and light. Highly recommended!"
Baydogan09, via Bol.com

"It's very light and space-saving, so it can go anywhere with you. You can also use it to watch movies, what a super device!"
Micz, via Amazon.fr

FAQ
Frequently asked questions
Where are the Riser laptop stands produced?
The Riser laptop stands are produced in the Netherlands.
What variants of Riser laptop stands are available?
Besides the Riser flexible, there is also an attachable variant available which can be attached to your laptop with Velcro. Also available is a variant suitable for both laptop and tablet use: the Riser Duo. Finally, the Riser Document is equipped with a document holder for working from paper.
Can I order this laptop stand with my own logo?
Yes, this is possible with minimum order of 100 units.
Increase your comfort
With an ergonomic laptop stand
A laptop cannot be properly adjusted to your body. The monitor is not adjustable and the keyboard and mouse are unfavorable to use. As a result, you often work in a hunched posture, causing neck and shoulder pain. So why not get rid of your laptop? No need! With a laptop stand and the right tools, you can still create a healthy workplace.